Happily Ever Arce... Our Most Unique & Fun Wedding Moments!
After all the planning, stress and, can't forget, the fun with our bridal party, our wedding day came and went and we're quickly approaching 2 months since we became Mr. and Mrs.! One thing we knew for sure was we wanted a fun wedding that would memorable, with lots of dancing, laughs and love. We didn't want to do anything because we had to, so from our more traditional to the more fun wedding ideas, they were all so us and we loved it!
Your wedding day will be completely different than ours, as it should be, but here I share all the less traditional, more creative and us inspired moments that gave us the fun wedding we wanted. Hope this gets your creative juices flowing and gives you all the fun wedding ideas you need to plan your big day!
FIRST TOUCH
We definitely wanted to keep it traditional in building up the excitement of seeing each other for the first time as I walked down the aisle. Wanting to have a moment where it was just the two of us right before the ceremony, we did a First Touch which is similar to First Look but instead of seeing each other, we only feel one another. It was perfect. Our son Achilles was by our side, we held hands, eased up our nerves and… of course, he went for a quick booty grab because it wouldn't be him without that move haha.
CEREMONY
PIANO & VIOLIN
My niece and nephew played "Canon" to a piano and violin version right before the bridal party made their entrance. Although I didn't get to see or hear them in action, I've seen the pictures and now I can't wait to finally get the video!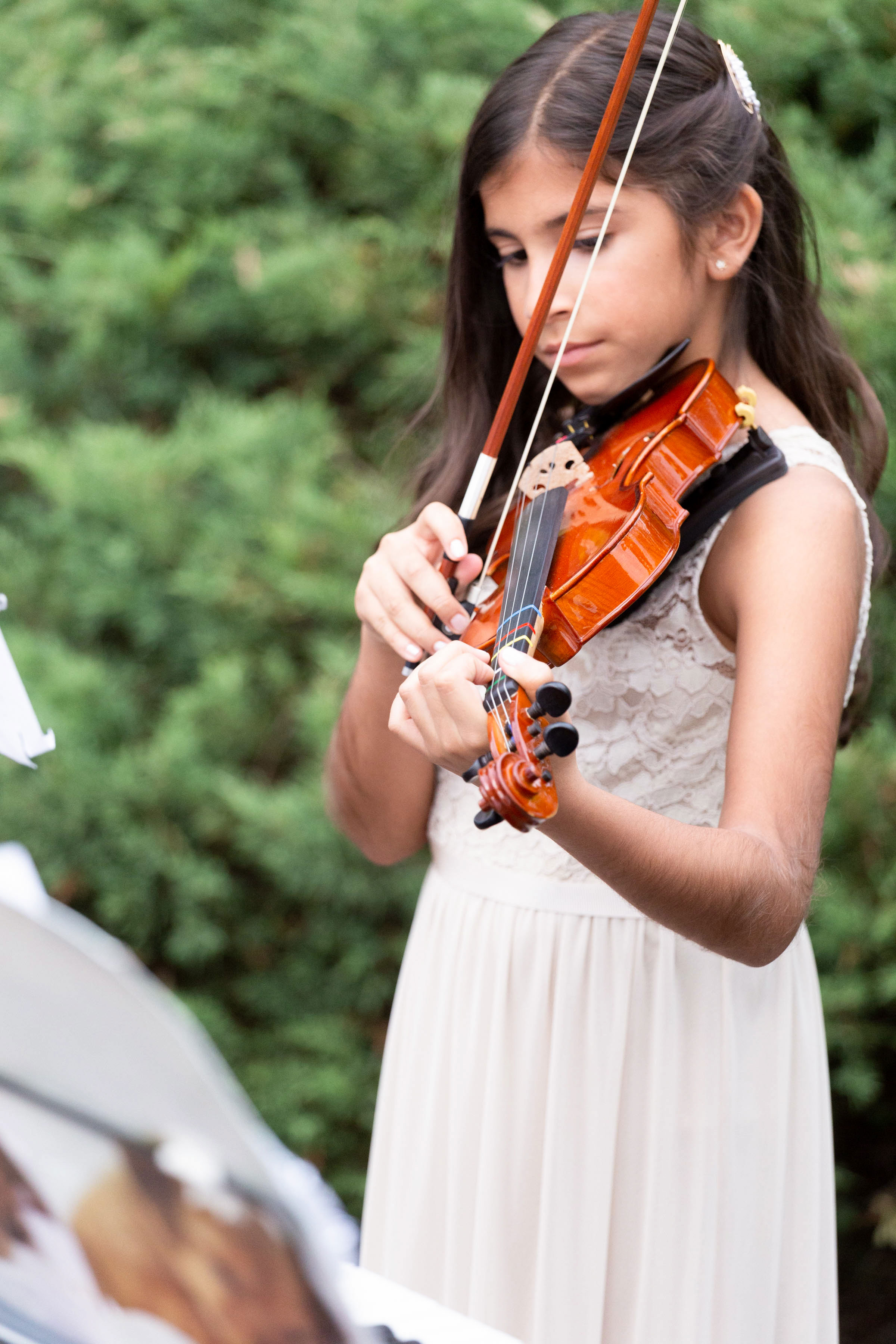 FLOWER GIRL
Our baby girl was the most adorable flower girl ever. Timidly walking down, she was all smiles once she saw her Papi waiting for her at the end of the aisle.
RING BOY
Our 3-year-old, very outspoken, big boy was our Ring Boy who decided playing right outside of the gazebo was more important than fulfilling his ceremony duties so… off he went to play! So here is the slight appearance he made at our ceremony.
My papi walked me down the aisle and then I looked into Argenis' eyes and he gave me the emotional look we all dream of haha. He later on had everyone laughing when he cracked a joke about me making him cry in front of so many people!
HAND CEREMONY
Our outdoor ceremony focused on love, unity and respect turned out even more perfect than we thought it would. Our officiant shared the Hand Ceremony and it was simply beautiful.
BRIDAL PARTY
Let's be serious, finding one dress that will have 8 females feeling confident and beautiful is nearly impossible! I wanted all my girls to look and FEEL beautiful so we went with different dresses in the same color. The groomsmen all wore the same suit and I must say our bridal party was looking hot!!
HAPPY - PHARRELL WILLIAMS
Happiest ceremony moment was finally sharing a kiss after a whole day of being apart. Being introduced as Mr. and Mrs. Arce, for the first time ever, we couldn't have picked out a better song than "Happy" by Pharrell Williams for our recessional.
LET'S GET THIS PARTY STARTED
GROUP HUG
Right after the toasts, the MC had us stand in the middle while everyone came in for the biggest, best, group hug ever! Swiftly put on a merengue that left everyone on the dance floor and the real party started right!
GARTER REMOVAL
Oh, this was my now husband's time to shine and he took it! All I will is say is the garter removal turned out the volume… caliente, caliente!
HORA LOCA
If you are Latino, you have most likely, at least, know what a wedding Hora Loca is. If not, you probably haven't but Hora Loca which literally translates to Crazy Hour is just that! An hour of carnival style party to get the crowd moving even more. Pictures will tell you more than words ever will about what it's like, so here's a look into our Hora Loca surprise.